Welcome to the Portugal Beach Life! Here you can find the Top 10 Beaches we recommend you to visit!
Portugal is known for its stunning white sandy beaches and with an extensive coast, there are many to choose from.
In this article we tell you about 10 awesome beaches you certainly do not want to miss in your holidays in Portugal.
Praia da Marinha, Algarve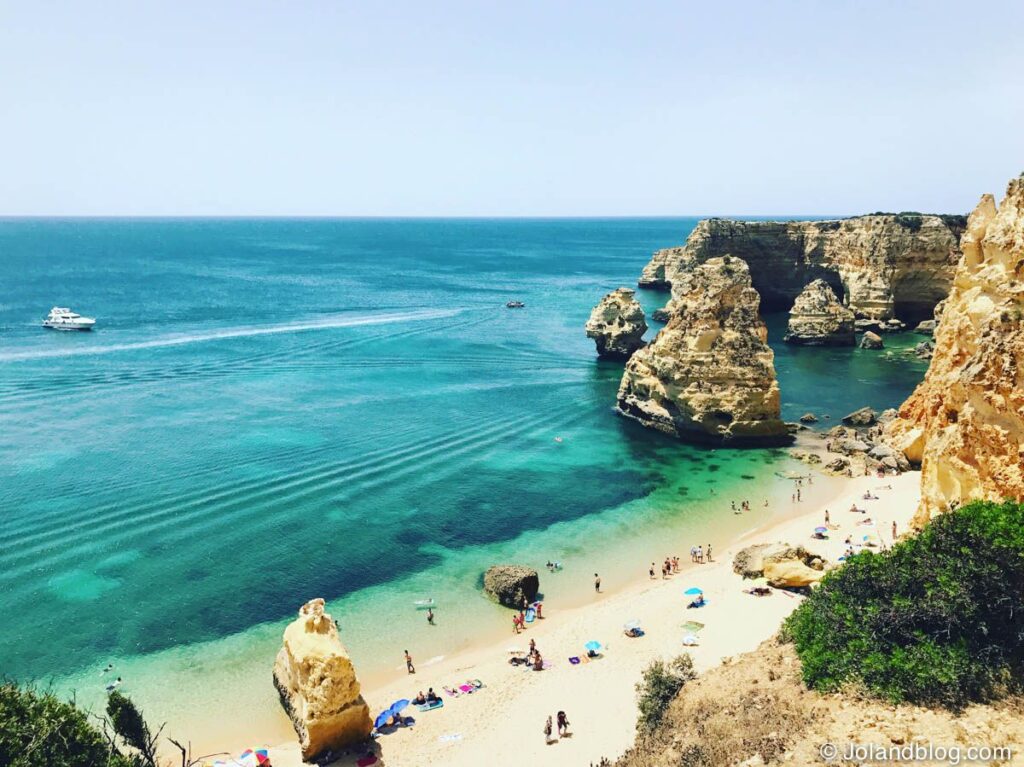 Praia da Marinha (translated Navy Beach), is one of the most iconic beaches in the Algarve, near Lagoa, and known as one of the most beautiful beaches of the world.
Photos of this beach are widely used in advertisements for the Algarve, but you can only see and feel its real beauty by being there in person.
The beach is surrounded by steep cliffs, which gives it a whimsical feeling from the top when you arrive.
To go to the beach you can take the stairs on the left.
When the tide is low you can walk along the beach and visit the amazingly famous rock structure that looks like the letter M.
You can find a small restaurant at this beach.
CHECK HERE HOTELS NEAR THIS BEACH
Praia da Falésia, Vilamoura, Algarve
Praia da Falésia (Cliff Beach) is a very popular and long beach, that starts in Vilamoura and goes all the way to Albufeira.
It is characterized by its incredibly high red cliffs and being 6km long, it is easy to find a spot in the summer and wonderful for long beach walks.
This beach is on the list of the Top 25 Beaches in the World by TripAdvisor's 2018 Traveler's Choice. It is ranked 12th and it is the only beach from Portugal that has entered the list.
There are all sorts of water sports to do, including paragliding, diving and a surfing school. You can also find several amazing beach restaurants here, like Maré that belongs to the Pine Cliffs Hotel.
CHECK HERE HOTELS NEAR THIS BEACH
Praia do Tamariz, Estoril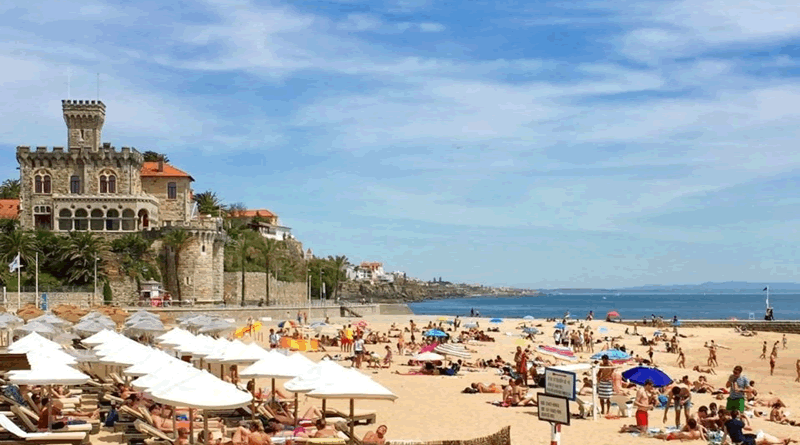 Praia do Tamariz is a wonderful clear waters family beach in Estoril, overlooked by a medieval styled castle.
It is very close to Estoril's beach hotels and resorts, so you do not have to walk far to reach it.
It has many restaurants and beach clubs in the surrounding area, so very well suited to stay all the day soaking up the sun.
The sea is non-tidal and very calm and relaxing. It can get very busy during summer months like July and August.
CHECK HERE HOTELS NEAR THIS BEACH
Praia de Odeceixe, between Alentejo and Algarve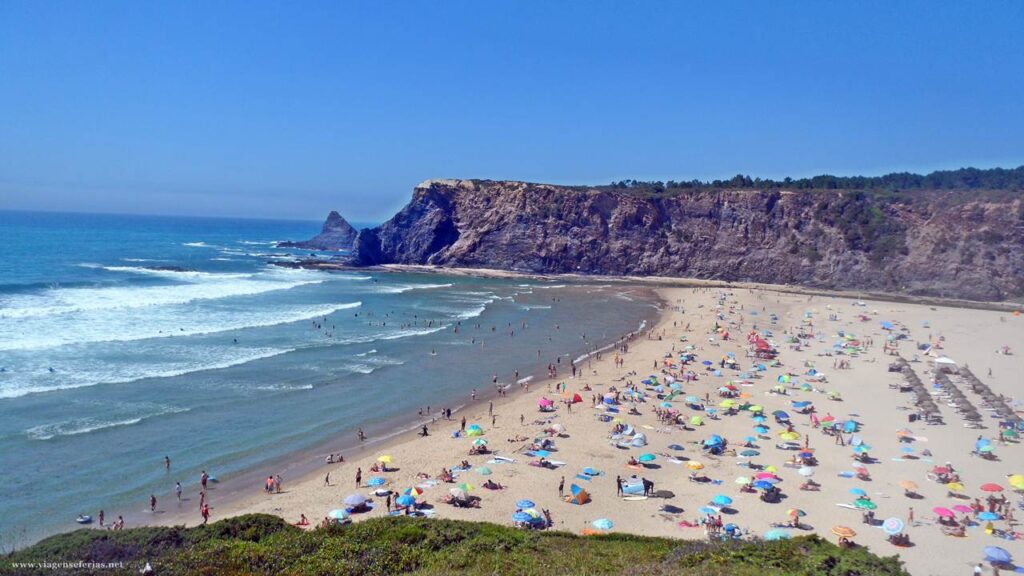 Praia de Odeceixe is a beach located in Aljezur, Alentejo's Coast, right where the Algarve starts.
This sandy beach is on the southern side of the outflow of the Rio de Seixe (River Seixe) to the sea.
Its beauty made the website European Best Destinations include this beach in their list of Europe's Best Hidden Treasures.
The northern side of the river has a backdrop of steep cliffs which shelter the beach.
Odeceixe Beach offers both sea and river swimming. At low tide, the large sandy surface is dotted with lagoons, ideal for children to play and swim in.
Served with good restaurants and many spots to watch the wonderful sunset.
CHECK HERE HOTELS NEAR THIS BEACH
Praia Grande, Sintra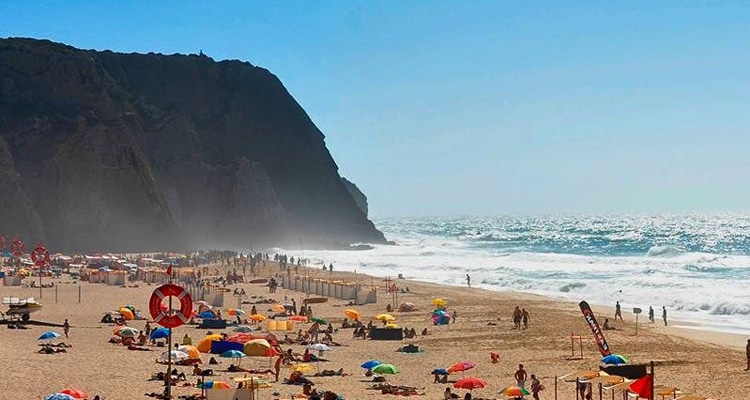 Praia Grande (Big Beach) is a popular surf beach located on the western edge of Serra de Sintra National Park.
Although you might need a car to get there, it is worth the ride if you love massive waves and a long beach to enjoy.
There are car parks alongside the beach, as well as nice restaurants and gift shops.
If you prefer, you can also get a day pass to the swimming pool at Hotel Arribas that overlooks the beach, or even stay there at this hotel.
CHECK HERE HOTELS NEAR THIS BEACH
Praia de Ribeira D'Ilhas, Ericeira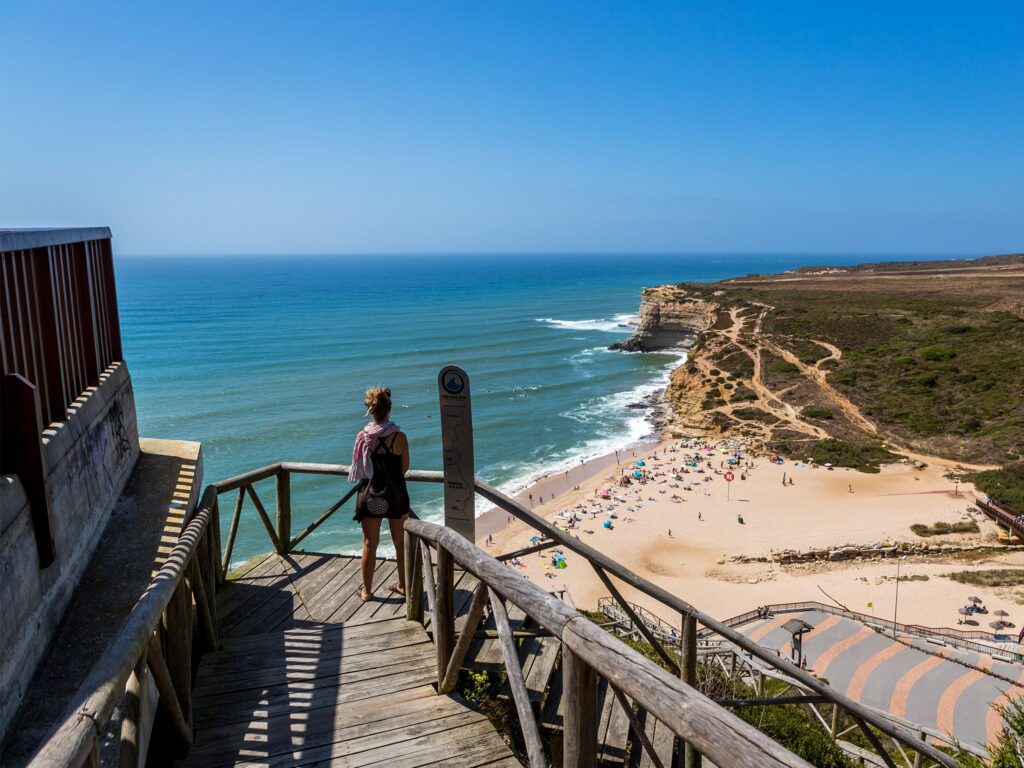 A surfer's paradise is what we can call this beach in the north part of Ericeira.
In fact, by offering some of the world's best surfing waves, since 1985 it has annually hosted one of the world surfing championship events, where you can see the best surfers in the world.
Enclosed by the steep slopes of the valley, it is very sought after all year round.
There are no hotels around this beach, but we recommend Vila Galé Hotel in Ericeira if you want to stay close.
You can also find at this beach the restaurant Ribeira D'Ilhas Surf Restaurant & Bar, with a chilled atmosphere, delicious food, awesome drinks and cool music.
CHECK HERE HOTELS NEAR THIS BEACH
Praia da Figueirinha, Arrabida Natural Park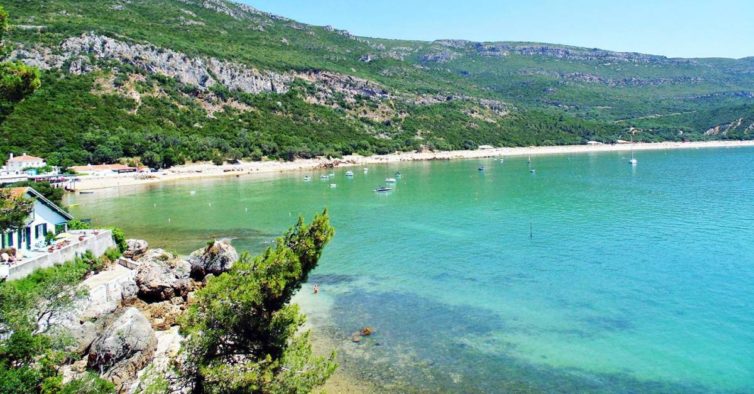 Located at the Arrabida Natural Park near Sesimbra is this beach of stunning natural beauty.
Figueirinha is the biggest and most accessible beach within the Arrabida Natural Park with a wide stretch of sand, parking and modern facilities including a bar/café/restaurant.
On one side you have the green of the Arrábida mountains and on the other one the clear blue waters of the sea.
With fine white sands, this relaxing bay is good for diving to enjoy the diverse marine life and for a perfect beach day in the summer.
With very calm waters and easy access, is a very popular beach.
And with some luck, you can even see the family of dolphins that live nearby.
CHECK HERE HOTELS NEAR THIS BEACH
Praia do Guincho, Cascais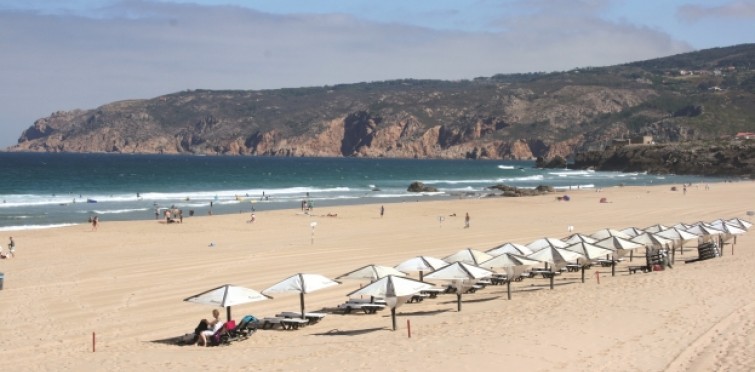 Praia do Guincho is located in Cascais on the western edge of the Serra de Sintra National Park.
The main attraction of this beach is its massive waves combined with the near constant breeze, which makes it a great surfing, bodyboarding and windsurfing spot.
Although you have to travel a bit further away from Cascais city centre, this beach is worth a visit if you like to experience nature's raw power combined with stunning views.
There is a walking path alongside the road from Casa da Guia to Praia do Guincho, so you can walk there or go on a bike ride.
There are several restaurants near Praia do Guincho and we recommend O Faroleiro.
CHECK HERE HOTELS NEAR THIS BEACH
Praia da Comporta, Alentejo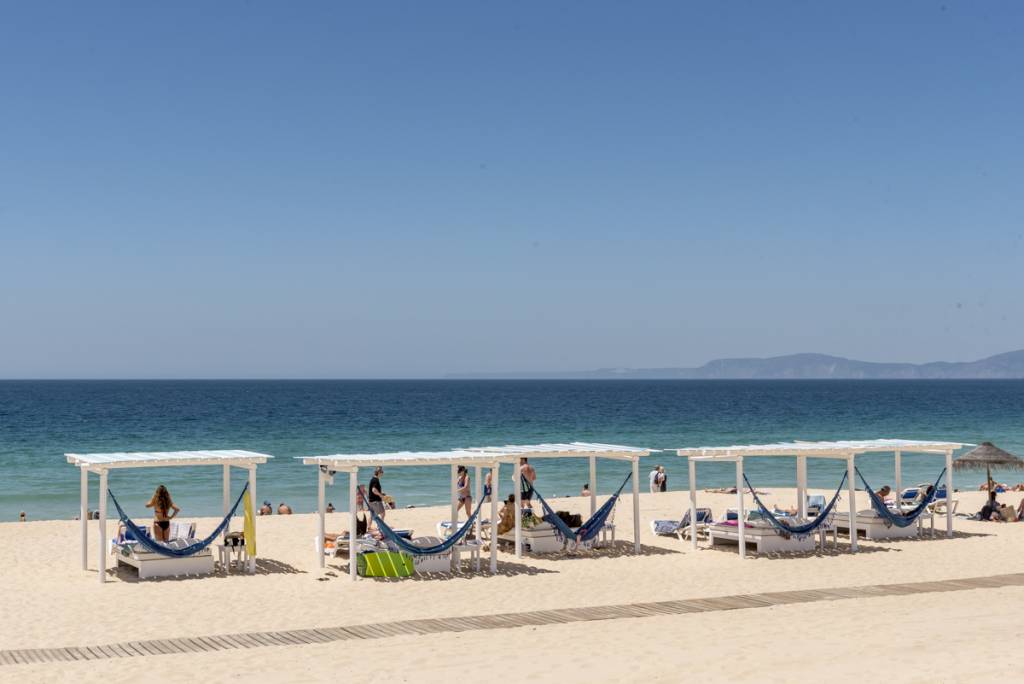 Comporta beach is located south of the Tróia Peninsula, in the Sado Estuary Nature Reserve.
It is a very sought after beach in the summer, famous by its huge sandy extent.
Comporta is one of the most exclusive summer destinations in Europe, which has earned the region the nickname as "the Hamptons' of Europe.
Comporta has become home to a community of famous designers and artists, including fashion designer Christian Louboutin, architect Philippe Stark, designer Pierre Yovanovitch, painter Jason Martin, amongst others.
Comporta is surrounded by rice paddies, the ocean, sand dunes and pine forests and it is the epitome of slowness and simplicity.
You'll find a big parking lot and good infrastructures to have a great day.
We recommend the restaurant Comporta Café, and to stay we recommend either the Sublime Comporta Country Retreat & SPA or the Quinta Da Comporta – Wellness Boutique Resort.
CHECK HERE HOTELS NEAR THIS BEACH
Praia do Camilo, Lagos, Algarve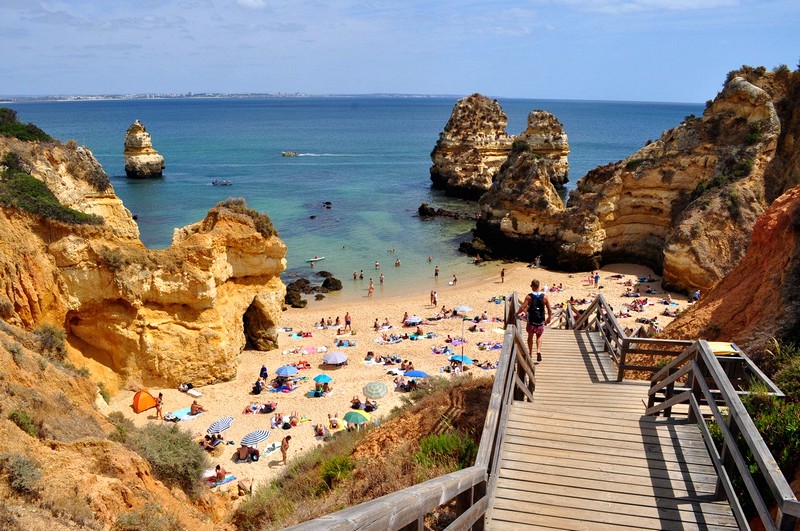 Praia do Camilo is a stunning beach located in Lagos, in the Algarve.
The TripAdvisor community named this beach one of the best things to do in Lagos.
The view from the top is stunning and to get the beach you have to walk down a path of long wooden stairs of about 200 steps.
It is a small beach, with nice and soft white sand, and clear blue and green calm waters, perfect for swimming, snorkelling or kayaking.
We recommend you to visit at low tide, so there is more space at the beach.
CHECK HERE HOTELS NEAR THIS BEACH
Want more? Click here to know the best hidden beaches in Portugal!